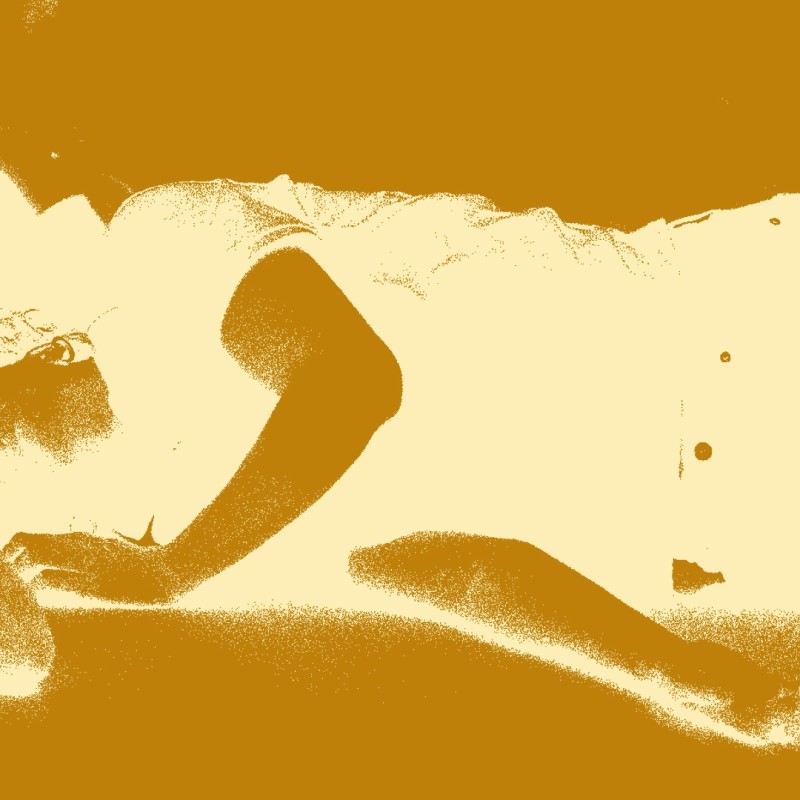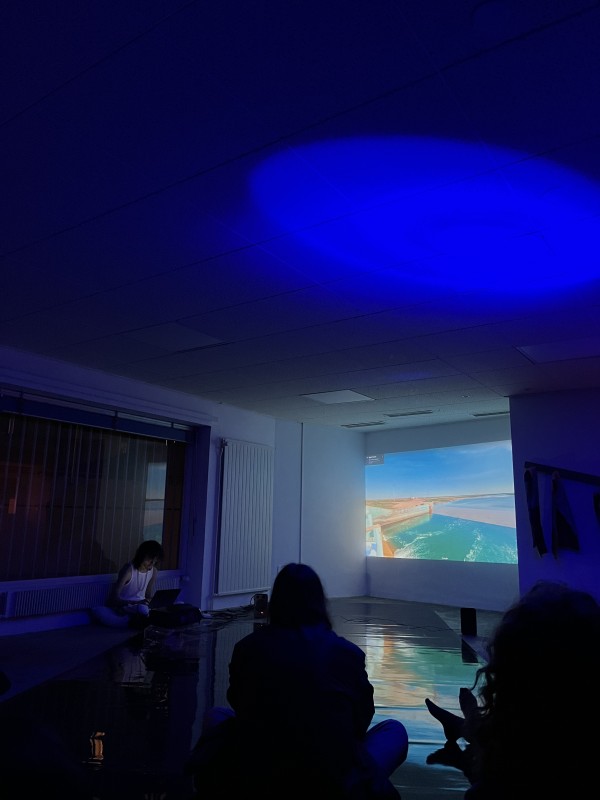 Azadbek Bekchanov
Magali Dougoud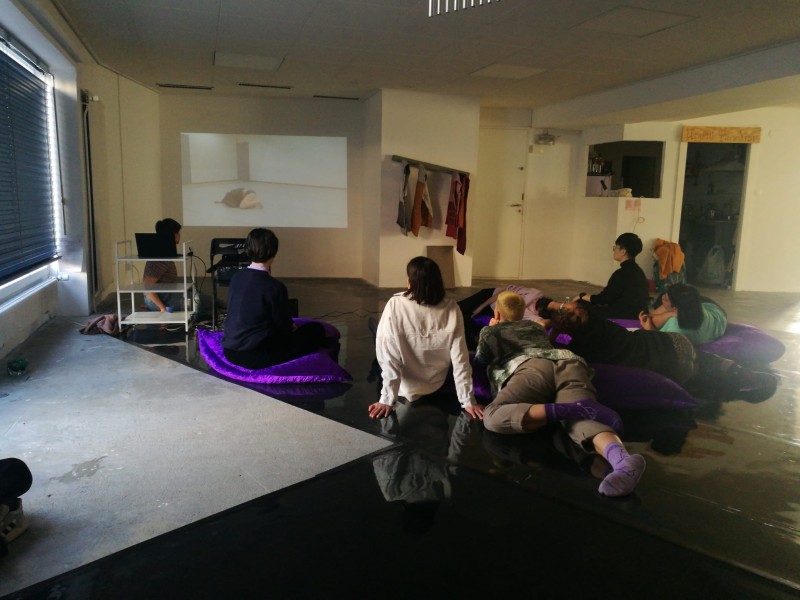 Grėtė Šmitaitė
Soñ Gweha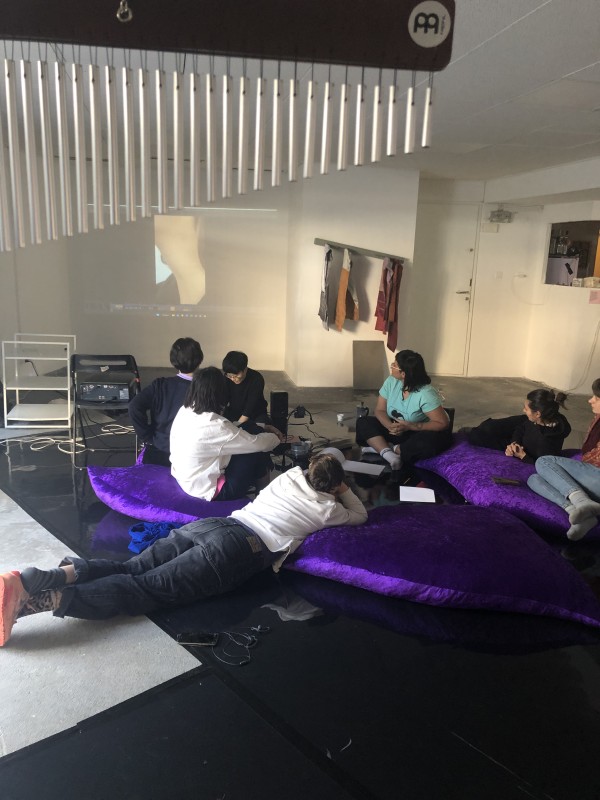 Melody Chua & Paloma Ayala
FROM ISLAND – SURFACE TO GRAVITY
Processus performatif | Performative process
22–24.02.2023
Exposition jusqu'au | Exhibition until 26.03.2023

Urgent Paradise, Ch. de Renens 51, Lausanne
FR
Ce processus performatif aborde les concepts de corps liquides et d'hydroféminismes, avec une attention particulière portée au toucher comme horizon.
Installation immersive et performative de Soñ Gweha (aka SOÑXSEED) activée par les performances, workshops et pièces sonores de Anne Sylvie Henchoz, Azadbek Bekchanov, Grėtė Šmitaitė, Magali Dougoud, Melody Chua & Paloma Ayala.
EN
This performative process addresses the concepts of liquid bodies and hydrofeminisms, emphasizing touch as a horizon.
Immersive and performative installation by Soñ Gweha (aka SOÑXSEED) activated by performances, workshops and sound pieces by Anne Sylvie Henchoz, Azadbek Bekchanov, Grėtė Šmitaitė, Magali Dougoud, Melody Chua & Paloma Ayala.
–
PARTICIPATION
Workshops ouvert à touxtes sur inscription jusqu'au | Workshops open to all on registration until 20.02.2023
> centre.choregraphique.ouvert@gmail.com
–
PROGRAMME
Mercredi | Wednesday 22.02.2023

16:00–18:00 
Magali Dougoud, Womxn Waves
Salon d'écoute de pièces sonores
18:00–19:00 
Anne Sylvie Henchoz, From Island
Atelier exploratoire de danses liquides
19:00 
Azadbek Bekchanov, Aral
Performance

Jeudi | Thursday 23.02.2023

10:00–16:00
Grėtė Šmitaitė
, On the Need to Relate
Workshop on interrelations and subconsciousness, EN

20:00–21:30
SOÑXSEED, The source (Oasis vectors)
Performance/Live set
Vendredi | Friday 24.02.2023
12:00 –16:00

Melody Chua & Paloma Ayala – RIVER ORACLE, Listening to Water Bodies
An oracle-making and sound workshop, EN


16:30 – 17.30: Grėtė Šmitaitė
, presentation of research To dance relations (no registration required)

22.02–19.03.2023
Soñ Gweha, The source (Oasis vectors)
Installation immersive | Immersive installation
–
ARTISTES | ARTISTS
Anne Sylvie Henchoz
Artiste et performeuse basée à Lausanne. Dans son travail, elle met en scène des situations en inventant un vocabulaire à la fois poétique, physique et chorégraphique, pour évoquer le concept de "relation". Elle est l'initiatrice du CHO – centre chorégraphique ouvert à touxtes.
Artist and performer based in Lausanne. In her work, she creates situations by inventing a vocabulary that is at once poetic, physical and choreographic, to evoke the concept of "relationship". She is the founder of the CHO – centre chorégraphique ouvert à touxtes.
Azadbek Bekchanov
Azadbek Bekchanov (1996) est un artiste et curateur vivant et travaillant entre Lausanne et Bâle. Sa recherche plastique s'appuie sur la construction de nouveaux récits prenant leur source dans l'héritage culturel et familial. Il s'intéresse particulièrement à la façon dont la nature et le paysage sont représentés dans un monde marqué par l'avancée des technologies et du capitalisme. 
Azadbek Bekchanov (1996) is an artist and curator living and working between Lausanne and Basel. His visual research is based on the construction of new narratives rooted in cultural and family heritage. He is particularly interested in the way in which nature and landscape are represented in a world marked by the advance of technology and capitalism.
Aral
"Je me rappelle de cette fois quand ma mère m'avait dit que nous avions beau vivre en Suisse, l'appartement dans lequel nous étions restait l'Ouzbéksitan; c'est le seul Ouzbékistan que je connais, celui loin de la terre où je suis née, celui qui ne contient que des souvenirs et des mots, celui que mes parents ont construit."
Grėtė Šmitaitė
Grėtė Šmitaitė est une artiste de la danse basée en Suisse et en Allemagne, née en Lituanie. Elle crée des chorégraphies basées sur des relations en constante évolution, des individus fragiles qui osent danser. Ses œuvres cherchent à donner de la visibilité aux interrelations.
Grėtė Šmitaitė is a dance artist based in Switzerland and Germany, born in Lithuania. She creates choreographies based on constantly changing relations, fragile individuals daring to dance. Her works seek to give visibility to interrelations.
On the Need to Relate
Le workshop cherche à créer un lieu pour oser se relationner. La danse et les tâches performatives seront proposées pour ouvrir le "je peux" de la relation avec fragilité. En particulier, le rire et les larmes seront explorés comme des moyens de rétablir les relations avec soi-même et avec son environnement social et naturel.
The workshop seeks to create a place to practice daring to relate. Dance and performative tasks will be offered as opening one's "I can" relate with fragility. In particular laughing and crying will be explored as re-enabling one's relations, to oneself and one's social and natural environment.
Magali Dougoud
Magali Dougoud (1986, CH) vit et travaille à Lausanne et est diplômée de la HEAD–Genève et de la HKB de Berne avec un Master en Arts Visuels.
Magali Dougoud (1986, CH) lives and works in Lausanne, and graduated from HEAD–Genève and HKB Berne with a Master's degree in Visual Arts.
Womxn Waves
L'artiste visuelle Magali Dougoud propose une série de pièces radiophoniques intitulée Womxn Waves reliant les femmxs, l'eau et différentes voix, dans une série de pièces expérimentales dont l'approche poétique et théorique s'inspire des féminismes post-anthropocentriques.
Visual artist Magali Dougoud is offering a series of radio pieces entitled Womxn Waves linking womxn, water and different voices, in a series of experimental pieces whose poetic and theoretical approach is inspired by post-anthropocentric feminisms.

Melody Chua & Paloma Ayala – RIVER ORACLE
Melody Chua (1994, US) étudie la manière dont les interfaces électroniques peuvent servir à la fois de véhicules d'expression narrative et de possibilités de déstabiliser les normes présentes dans la relation d'une personne avec la technologie.
Melody Chua (1994, US) investigates how electronic interfaces can act as both vehicles of narrative expression and simultaneously as opportunities to destabilize the normatives present in one's relationship with technology.

Paloma Ayala (1980, MX) est une artiste visuelle qui s'intéresse à l'autonomisation de la relation entre les stratégies de vie domestique et les contextes politiques. Elle est une mère diasporIque et une fille mestiza dont le travail fictionne des problématiques historiques, écologiques ou sociales comme un vecteur d'analyse et de critique.
Paloma Ayala (1980, MX) is a visual artist interested in empowering the relationship between domestic living strategies and political contexts. She is a diaspora mother and a mestiza daughter whose work fictionalizes historical, ecological or social problematics as means of analysis and critique.

RIVER ORACLE est un collectif créé dans et par le fleuve du Rhein avec les artistes visuelles Paloma Ayala, Anne-Laure Franchette et Riikka Tauriainen, ainsi que les artistes sonores Melody Chua et Kay Zhang.
RIVER ORACLE is a collective created in and by the Rhein river with visual artists Paloma Ayala, Anne-Laure Franchette and Riikka Tauriainen, with sound artists Melody Chua and Kay Zhang.
Listening to Water Bodies
Ce projet se veut un outil pour nous situer en tant qu'humains dans notre relation avec les "corps aquatiques" (water bodies). En tant que méthodologie de pensée, RIVER ORACLE est un moyen de développer un travail artistique dans une pratique située qui met l'accent sur nos liens avec le plus qu'humain. En tant qu'approche pédagogique et de recherche, le projet se rattache aux pratiques spéculatives féministes: l'oracle devient unex médiateuricex et unex facilitateuricex de communication entre divers discours féministes sur la protection de la Terre, les interdépendances, la pensée anticoloniale et les "corps aquatiques".
This project is meant to be a tool to situate ourselves as humans in our relationship with water bodies. As methodology of thought, the RIVER ORACLE is a way to develop artistic work in a situated practice that emphasizes our connections to the more-than-human. As a research and pedagogical approach, the project connects to feminist speculative practices: the oracle becomes mediator and facilitator of communication between diverse feminist discourses of Earth care, of inter-dependencies, of anti-colonial thinking, and water bodies.
Soñ Gweha
L'artiste Soñ Gweha (aka SOÑXSEED) mobilise la pratique du djying analogique pour poursuivre son exploration des mythologies et des espaces d'émancipation noirs, queer, visionnaires. Sa production artistique investit différents modes d'expression (musique, vidéo, performance, installation, sculpture et pratique du collectif) et différents imaginaires (utopique, érotique, mystique) dans une quête vers l'affranchissement des normes sociales et connexion entre humains et non-humains, visible et invisible.
Artist Soñ Gweha (aka SOÑXSEED) uses analogue djying to explore black, queer and visionary mythologies and spaces of emancipation. Their artistic production embraces different modes of expression (music, video, performance, installation, sculpture and collective practice) and different imaginaries (utopian, erotic, mystical) in a quest for freedom from social norms and a connection between humans and non-humans, the visible and the invisible.
The source (Oasis vectors)
La performance/DJ Set The Source (Oasis Vectors) est conçue avec tendresse, amour et soin pour les personnes qui prendront part à l'expérience. L'artiste puise dans sa collection de vinyles House, Jazz, Disco, R&B, et de musiques révolutionnaires du Cameroun etc, afin de revenir à la source de son mieux-être, à travers une destination aquatique.
The performance/DJ Set The Source (Oasis Vectors) is designed with tenderness, love and care for the people taking part in the experience. The artist draws on their collection of house, jazz, disco, R&B and revolutionary music from Cameroon to return to the source of their better-being, through an aquatic destination.
–
Avec le soutien de | With the support of la Ville de Lausanne
En collaboration avec | In collaboration with Urgent Paradise