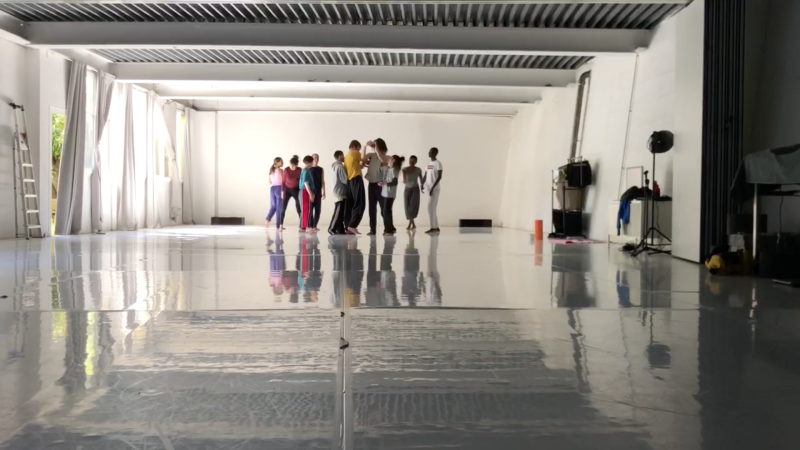 © Sayaka Mizuno
RAINBOW VISIONS AND PERCEPTIONS
Processus performatif | Performative process
25–28.04.2022, 10:30-18:00
Studio 2, Rue Valentin 35, Lausanne
FR
Rainbow visions and perceptions est une invitation, en mixité choisie, à un processus performatif qui se déroule entre le 25 et 28 avril au Studio 2.
Il s'agit d' expérimenter ensemble un processus performatif en partageant des pratiques chorégraphiques, filmiques et poétiques autour de différents enjeux identitaires avec une communauté à géométrie variable de personnes queer et alliées (et concernéexs de près ou de loin par des enjeux migratoires).
Il s'agit d'imaginer de nouveaux récits fluides, de les évoquer, les danser puis les rendre visuels en cartographiant ce que les corps sont et signifient les uns pour les autres, en décolonisant nos imaginaires du système patriacal-hétéronormé.
EN
Rainbow visions and perceptions is an invitation to a performative process taking place between 25 and 28 April in Studio 2.
The idea is to experiment together with a performative process by sharing choreographic, filmic and poetic practices around different identity issues with a variable-geometry community of queer and allies (directly or indirectly concerned by migration issues).
The aim is to imagine new fluid narratives, evoke them, dance them and then make them visual by mapping out what bodies are and mean to each other, decolonising our imaginations from the patriarchal-heteronormative system.
–
PARTICIPATION
Ouvert à toute personne concernée et intéressée | Open to anyone intersted and concerned
Inscription jusqu'au | Registration until 22.04.2022
> centre.choregraphique.ouvert@gmail.com
Aucun pré-requis technique n'est nécessaire pour participer à ce processus performatif
No technical prerequisites are required to take part in this performative process
Come as you are.
–
ARTISTES | ARTISTS & COLLABORATIONS
Ana Pi
Artiste chorégraphique et de l'image, chercheuse des danses afro-diasporiques et urbaines, danseuse extemporaine et pédagogue, ses pratiques se tissent grâce à l'acte de voyager. Son travail se situe entre les notions de circulation, de déplacement, d'appartenance, de superposition, de mémoire, de couleurs et de gestes ordinaires.
Choreographer and visual artist, researcher in Afro-diasporic and urban dance, extemporary dancer and teacher, her practice is shaped by the act of travelling. Her work explores notions of circulation, displacement, belonging, superimposition, memory, colour and ordinary gestures.
Anne Sylvie Henchoz
Artiste et performeuse basée à Lausanne. Dans son travail, elle met en scène des situations en inventant un vocabulaire à la fois poétique, physique et chorégraphique, pour évoquer le concept de "relation" Elle est l'initiatrice du CHO – centre chorégraphique ouvert à touxtes.
Artist and performer based in Lausanne. In her work, she creates situations by inventing a vocabulary that is at once poetic, physical and choreographic, to evoke the concept of "relationship". She is the founder of the CHO – centre chorégraphique ouvert à touxtes.
Association Rainbow Spot
L'Association Rainbow Spot soutient les personnes migrantes lesbiennes, gays, bisexuelles, trans*, intersexes, queer, non binaires, et toutes les autres personnes dont les identités et/ou expression de genre et/ou orientations sexuelles sont minorisées. Son domaine d'activités se situe à l'intersection entre les questions de migration et LGBTIQ+.
The Rainbow Spot Association supports lesbian, gay, bisexual, trans*, intersex, queer, non-binary migrants and all other people whose gender identities and/or expressions and/or sexual orientations are minorized. Its field of activity lies at the intersection between migration and LGBTIQ+ issues.
Cie du MARCHEPIED
Dirigée par Corinne Rochet et Nicolas Pettit, la Cie du MARCHEPIED propose un espace d'immersion professionnelle dans la danse contemporaine en Suisse romande. Sur une période de 5 mois, la compagnie offre à 5 candidatexs diplôméexs, au sortir de leur formation et en attente d'employabilité, une valorisation artistique et une visibilité professionnelle par l'expérience de la création chorégraphique et de représentations sur des scènes nationales et internationales.
Directed by Corinne Rochet and Nicolas Pettit, the Cie du MARCHEPIED offers a professional immersion in contemporary dance in French-speaking Switzerland. Over a period of 5 months, the company offers 5 graduate candidates who have just completed their training and are looking for a job, artistic development and professional visibility through the experience of choreographic creation and performances on national and international stages.
Tila Chitunda
Réalisatrice, vidéaste, monteuse, née au Brésil, résidant en Suisse. Elle travaille sur les notions d'identités, de musique et des gestes. Ses films ont été montrés dans de nombreux festivals internationaux. Elle est la fondatrice de l'association le Renversé avec Cristina Müller.
Born in Brazil, she lives in Switzerland. She works on notions of identity, music and gesture. Her films have been shown at numerous international festivals. She is the founder of the association le Renversé with Cristina Müller.